A flexible refinancing option that is ideal for borrowers with low debt and high earning potential.
Earnest Student Loan Refinance Review:
Earnest are a fintech lender based in San Francisco. Founded in 2013, Earnest are well known for their borrower approval process that focuses on the borrowers earning potential, looking beyond the traditional credit score. Earnest use state-of-the-art software to analyze a borrower's education, financial profile and earning potential to determine whether they qualify for their services. This merit-based lending approach sets Earnest apart from many of its competitors.
Earnest is a good option for those with a strong financial history and earning potential, offering some of the lowest interest rates on the market. Earnest also provide borrowers with the flexibility to set their own monthly payments and select the length of their loan, as long as it's between 5 and 20 years. This enables customers to personalize their loan to suit their personal financial situation. 
It is worth noting that Earnest are owned by Navient. Navient are a student loan servicer that is being sued for allegedly pushing borrowers to apply for forbearance over taking on an income-driven plan. Earnest is run as a separate division within the company, meaning that they service their own loans so their legal issues shouldn't be a concern for borrowers.
Strengths:
Loan terms and payment options are very customizable and personalized.
Borrowers have the option to skip a maximum of one payment every 12 months.
The ability for borrowers to know if they qualify and the rate they would receive without going through a hard credit check.
Weaknesses:
Inability to apply with a co-signer.
Loans aren't available in certain states (Delaware, Kentucky and Nevada).
No loan option beyond 20 years.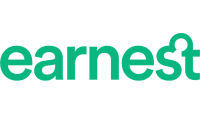 | | |
| --- | --- |
| Fixed Rates | 3.47% - 7.59%. |
| Variable Rates | 2.27% - 6.89%. |
| Loan Amount | $5,000 to $500,000 |
| Loan Terms | 5 years to 20 years. Choose a precise loan term, down to the month. |
on Earnest's secure website
Qualifications and Requirements for Earnest Student Loan Refinancing:
One of the standout features of Earnest is that there is no minimum income requirement for applicants. Instead, Earnest looks at your earning potential throughout your career in addition to data from previous and current financial accounts. Earnest do need to verify any current income you have by connecting with your existing checking account. Another positive for applicants is that they don't need to have completed their degree, as long as they will graduate within 6 months.
Earnest do not allow co-signers on their student loan options so applicants must be able to meet all qualification criteria on their own.
No minimum income requirement. All potential borrowers are required to have either a stable income or written evidence of a job offer starting within the proceeding 6 months.
Minimum credit score requirement of 650.
Must be a graduate or within 6 months of graduating.
Must be a U.S citizen or have a 10-year non-conditional green card.
Available to most U.S states with the exception of Delaware, Kentucky and Nevada.
Variable loan rates are not available for customers in Alaska, Illinois, Minnesota, New Hampshire, Ohio, Tennessee and Texas.
Earnest Loan Repayment:
Earnest offers fixed rate options from between 3.47% - 7.72% and variable rates between 2.37% - 6.99%. They offer loan terms that can range from anywhere between 5-20 years. The ability to select your loan term gives borrowers great flexibility when paying off their loan. There are no hidden or late fees on refinancing loans which means all payments go straight onto the loan amount.
 Once your refinancing package is approved and you start making repayments, borrowers have the ability to tailor their monthly payments to a level that matches their financial situation. This also means borrowers can increase payments to repay the loan faster and pay less interest over the period of the loan. Borrowers who meet their monthly payment due dates for 6 consecutive months will also have the option to skip one payment on their loan every 12 months.
Customer Service:
The overall customer service of Earnest leaves much to be desired when compared to other lenders.
In-house customer service team is available however there is no formal process in place for the escalation of issues.
No dedicated financial representative assigned to customers.
Last Words on Earnest:
Overall, Earnest is a great option for any borrower who simply want competitive rates and are not using a co-signer. When it comes to the flexibility of payment and loan term options, Earnest cannot be beat. The added benefit of being able to skip 1 monthly payment every 12 months is another way that Earnest provides its customers the option to build a payment plan that works for them. Forbearance is available for borrowers for up to 12 months if borrowers are facing economic hardships. Those pursuing their degree in the military can also defer their loan payments for up to 36 months. This level of flexibility makes Earnest a refinancing option worth considering for those with a high projected income.
Earnest Overview: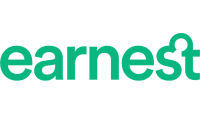 on Earnest's secure website