An ideal refinancing option for those in a stable financial situation who place high value on customer service.
Education Loan Finance Student Loan Refinance Review:
Launched in 2015, Education Loan Finance (also known as ELFI), is a division of the Tennessee-based SouthEast Bank. ELFI provides student loan refinancing options in addition to undergraduate, graduate and parent private student loans. The company boasts a state-of-the-art loan application system that enables borrowers to consolidate outstanding student loans into a single loan.
 Despite being a fairly new entrant in the student loan market, ELFI has quickly gained a reputation as one of the better options for borrowers to consider. Their low-interest rates and high approval rates has seen their popularity soar in recent years. Despite being relatively new in the market, the fact that ELFI loans are a bank product gives them a level of stability that provides borrowers peace of mind when going through the arduous process of refinancing.
 While they don't offer as many flexible repayment options as some of their competitors, this is overshadowed by the exceptional level of customer service ELFI provides its borrowers. Each borrower receives a personal advisor that stays with the customer throughout the entire refinancing process. This level of detail to their customer care is a standout feature of ELFI refinancing.
Strengths:
Offers referral bonuses of up to $400 with no limit on the number of people that can be referred.
Every borrower is assigned their own dedicated loan specialist for their entire refinancing process.
Exceptional customer support if any issues or concerns arise.
Weaknesses:
If you decide to return to school, there are no payment postponement options.
The minimum refinancing amount of $15,000 is more than most other lenders.
Does not have as many flexible repayment options as other lenders.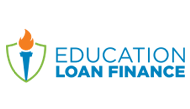 | | |
| --- | --- |
| Fixed Rates | 3.29% - 6.69% |
| Variable Rates | 2.8% - 6.01% |
| Loan Amount | $15,000 up to your total outstanding loan balance |
| Loan Terms | 5, 7, 10, 15 or 20 years |
on Education Loan Finance's secure website
Qualifications and Requirements for Education Loan Finance Student Loan Refinancing:
As with most student loan refinance options, to qualify for an ELFI loan you must have a degree and pass the relevant credit checks. ELFI also requires that students have a minimum student loan sum of $15,000 in order to qualify for their refinancing options. ELFI loans are available to U.S citizens and permanent residents in all 50 states, Washington D.C, and Puerto Rico. Other key requirements:
Required minimum credit score: 680.
The maximum debt-to-income ratio is 55%.
Must have a minimum income of $35,000 per year.
If you've filed for bankruptcy in the past, you can still qualify if at least 7 years have passed.
To qualify you must have attended a school that is legible to receive federal aid. The school must be nonprofit and be on the Education Loan Finance's list schools that meet the criteria.
Education Loan Finance Loan Repayment:
ELFI provide options of 5, 7, 10, 15- and 20-year loan terms ranging from $15,000 up to your total loan balance. Fixed interest rate options range from 3.29% - 6.69%, while Variable rates are available between 2.80% - 6.01%. There is a late fee applicable to all loans of 5% past the due amount or $50, depending on which is less, after a payment is late by 11 days.
 Forbearance is available with customers able to postpone payments for up to 12 months due to facing certain hardships. Each forbearance case is reviewed on an individual basis. Military deferment is available however academic deferment is not.
Customer Service:
 ELFI provide exceptional customer service which is inclusive of the following:
ELFI have an in-house customer service team available for all customers with a stringent process for escalating any issues.
Each customer receives a dedicated loan specialist for their entire refinancing process to assist with queries and questions.
Last Words on Education Loan Finance:
Due to its low interest rate options in several loan categories, Education Loan Finance is a refinancing option that should be seriously considered by those that qualify. ELFI combines the stability provided by being the division of a large bank, with the low interest rates that every borrower is seeking. It boasts simple payment options, low rates and flexible terms.
What really makes ELFI stand out is it's one of a kind customer service experience. The in-house customer service team is great, however it's the dedicated personal loan advisor that takes the experience to the next level. It provides a more personalized experience that provides borrowers the peace of mind that all their questions, concerns and queries will be looked after in a heartbeat.
Education Loan Finance Overview:
Provides personalized rate estimates to all borrowers through credit checks.
Refinancing options are available for parent PLUS loans that are in the borrowers' name.
Arguably the best customer service experience amongst all lenders.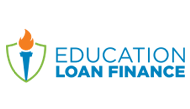 on Education Loan Finance's secure website