The best student loan option for married couples looking to consolidate their loans into one.
PenFed Student Loan Refinance Review:
Pentagon Federal Credit Union, known as PenFed, started offering student loan refinancing options in 2016. They launched these offerings in partnership with the student loan fintech company, Purefy. PenFed is the third-largest credit union in the U.S and has been providing financial services for over 80 years. They have over 1.6 million customers and have over $24 billion in assets.
PenFed provide many student loan refinancing options that can help customers consolidate their private, federal and parent-student loan debt. What makes PenFed stand out is that it is one of the few organizations that allow married couples to refinance their loans together at the best rates available to the couple. The spouse loan refinancing program lets married couples consolidate loans, so they aren't managing multiple monthly repayments and interest rates.
Applicants can also receive a quote from PenFed without impacting their credit score. A rate comparison tool is available to get a quote and idea on interest rates and repayments. This won't impact a borrower's credit score so there is no risk in checking the rate.
There is no formal forbearance or deferment program available however PenFed do work with their customers on an individual basis to try accommodating a borrower's personal situation.
Strengths:
Ability to refinance PLUS loans in the borrowers' name.
The ability for borrowers to know if they qualify and the rate they would receive without going through a hard credit check.
Married couples have the option to refinance student loans into one loan.
Weaknesses:
There are currently no formal forbearance options available to pause payments.
High late payment fees apply.
Only available to U.S citizens and not permanent residents.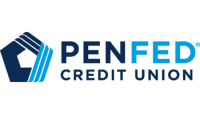 | | |
| --- | --- |
| Fixed Rates | 3.48% - 6.03% |
| Variable Rates | 2.86% - 7.6% |
| Loan Amount | $7,500 to $300,000 |
| Loan Terms | 5, 8, 12 or 15 years |
on PenFed's secure website
Qualifications and Requirements for PenFed Student Loan Refinancing:
Overall, the PenFed student loan refinancing options are for those with a strong credit history who meet strict income requirements. The credit score and income requirements increase when you are refinancing anything greater than $150,000. To refinance with PenFed you will also need to be a member of PenFed Credit Union. Becoming a member is a simple process so this shouldn't deter too many people. While PenFed is available in all 50 states, it is only open to U.S citizens.
The minimum credit score requirement is 670 however if applying without a co-signer or when refinancing more than $150,000 you will require a higher credit score.
Minimum income requirement is $25,000 when applying with a co-signer and $42,000 without. Minimum income requirement increases to over $50,000 when refinancing more than $150,000.
Maximum debt-to-income ratio is set at 35% for those with undergraduate degrees and 40% with graduate degrees.
Available in all 50 states however you must be a U.S citizen.
Only Pentagon Federal Credit Union members can apply through PenFed. However, membership is free and part of the refinancing process.
PenFed Loan Repayment:
PenFed offer a fixed rate that ranges between 3.48% - 6.03%, and a variable rate between 2.86% - 7.60%. Loan terms are available for 5, 8, 12- and 15-year terms. PenFed also offers benefits to married couples looking to refinance their loans. PenFed provides the option for married couples to refinance their loans into one loan that has one monthly payment. To ensure customers receive the best interest rate available to them, PenFed will refinance the loan using the combined income of the married couple and use the highest credit rate score of the couple.
Customer Service:
An in-house customer service team is available for all borrowers.
Each customer will be assigned with a dedicated advisor to assist with any questions, concerns and queries throughout their refinancing process.
Quick time from approval to payoff. Typically ranging from anywhere between three to fourteen days.
Last Words on PenFed:
PenFed offers competitive rates when compared to other lenders however it's best suited for married couples looking to consolidate their student loan debts into one. This unique offering is a differentiator for PenFed in a crowded marketplace that enables married couples to forgo having to worry about multiple interest rates, loans and monthly payments. Under the joint spouse loan, the terms will be based on combined income and the higher credit score of the two. The downside to PenFed is its lack of a formal forbearance program which may turn off those with no financial stability. While PenFed do work with customers on an individual basis if they are facing hardships, the lack of formal structure and process when it comes to deferment means there are no guarantees.
PenFed Overview:
Very competitive rates for those with high income and strong credit ratings.
Joint spouse refinancing options available.
No formal deferment options.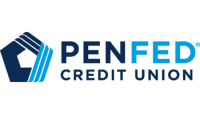 on PenFed's secure website