Competitive market rates and unique member benefits make SoFi a great refinancing option for those with a strong credit history.
Sofi Student Loan Refinance Review:
Founded in 2011, SoFi is an online financial services company that offers student loan refinancing, personal loans, and mortgages.
SoFi offers competitive rates and qualification requirements, however, what really sets them apart is their member benefits such as programs to help borrowers find employment and progress their careers. These unique features make SoFi one of the best options for any borrower with a strong credit history.
SoFi also provides help for those in financial strain by offering career coaches to support borrowers through difficult periods. If the career coach path is unsuccessful then SoFi also offers formal forbearance programs to help borrowers with their financial strain. SoFi is a popular choice amongst medical students entering their residency as they can defer full payment of their loans for up to four years.
SoFi also provides assistance to parent borrowers by enabling them to transfer their federal parent PLUS loans to their children.
Strengths:
Ability to refinance parent PLUS loans in your name.
Added benefits of job search help, career planning advice and entrepreneurship guidance.
Ability to check if you qualify and what your rate would be without requiring a hard credit check.
Weaknesses:
Does not offer co-signer release.
Has a high minimum loan size when compared to other refinance options.
Maximum forbearance capped at 12 months.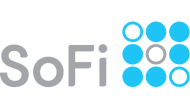 | | |
| --- | --- |
| Fixed Rates | 3.49% - 7.94% |
| Variable Rates | 2.27% - 7.55% |
| Loan Amount | $5,000 up to 100% school-certified expenses |
| Loan Terms | 5, 7, 10, 15 and 20 years |
Qualifications and Requirements for Sofi Student Loan Refinancing:
SoFi does not disclose the minimum credit score requirement, however, borrowers will be pleased to know that there is no minimum income requirement. Instead, SoFi analyzes a borrowers' free cash flow or how much cash they have remaining after their monthly expenses. SoFi refinancing is available to borrowers in all 50 states as long as they are a U.S citizen or a permanent resident.
No minimum income requirement.
Must be either a U.S citizen or a permanent resident. Permanent Residents require greater than two years until the expiry of their status.
Available to borrowers across all 50 states.
If you've previously filed for bankruptcy you can still qualify after the bankruptcy drops off your credit report.
Require an associate degree or higher.
Sofi Loan Repayment:
SoFi offer competitive rates with variable rates starting at 2.80% and fixed rates at 4.14%. They offer refinancing for a minimum loan amount of $5,000 with loan terms available in 5, 7, 10, 15- and 20-year terms. SoFi have a late fee of $5 which only applies if payment is over 15 days late. Borrowers have the option to sign up for automatic payments which will grant them a 0.25% discount. SoFi also offer a referral bonus of $300 for each person a borrower refers who takes out a loan.
Customer Service:
In-house customer service team is available to all borrowers with a clear process in place for escalating issues.
Approval to payoff time: one week.
Last Words on Sofi:
The unique benefits offered to its members really sets SoFi apart from other lenders. They are similar to their competitors when it comes to interest rates, forbearance and refinancing options, however no-one else comes close to the extra benefits and programs they offer. Helping borrowers to find employment and advance their careers offers a human touch rarely seen amongst financial lenders. They also offer career coaches and support to borrowers going through financial difficulties. Medical students also have the benefit of deferring full payment on their loans for up to four years during their residency.
 The no minimum income requirement also gives borrowers from all 50 states the opportunity to refinance with SoFi. Instead of minimum income, SoFi look at borrowers' free cash flow to determine whether they qualify for loan refinancing.
 These benefits make SoFi a refinancing option all borrowers who qualify should strongly consider. It's rare for a financial lender to offer member benefits that look after borrowers when in a time of need.
Sofi Overview:
Unique member benefits and programs.
Provides career coaches and networking for borrowers facing financial strain.
Medical students can defer payment for up to four years.